Photos Down Where the Rhythm Never Ends
Down Where the Rhythm Never Ends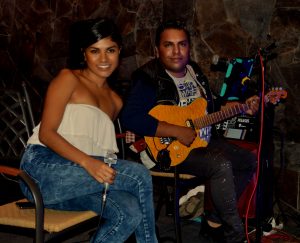 With the preparation completed for the July Photographic Exhibition in Las Vegas ("A Suitcase Full of Memories"), a respite to Mexico offered the necessary recompense to this endeavor.  Compounded with the celebration of our exchange of marriage vows 42 years ago on the island of Barbados in the West Indies, the sanctuary of Secrets Vallarta Resort was our resort/spa of choice for this lifetime milestone.  Chauffeured to McCarran Airport in Las Vegas by our sons at 3:00am, we boarded our United (not by choice) flight without incident.
After a 3.5-hour flight, fighting the monsoon's northern jet stream, we landed hard, startling most of the sleeping passengers including ourselves, at Licenciado Gustavo Díaz Ordaz Airport in Puerto Vallarta, Mexico.  Almost immediately over the plane's public-address system, the head stewardess commented that it wasn't the Captain's fault for such a hard landing, but it was "the asphalt".  For all the passengers knew, it could have been Captain Kang. A. Roo who bounced our 737 Boeing jet on the tarmac to the terminal gate.  Other than that, our arrival was uneventful with immigration and customs the only minor delay to entering the Land of Opportunity called Mexico and our sanctuary at Secrets Vallarta Resort.
With our luggage collected from baggage claim #5, we moved effortlessly to the exit, anticipating a sign from God that our internet request for an airport pickup was confirmed.  This afternoon, with throngs of families and friends crowding the customs exit, we spotted our pre-arranged driver eagerly waving a placard with our last name emboldened in Roman Times font.
It was a short ten-minute drive from the airport to Secrets Resort.  Like other five-star hotels, guests are treated as Diplomats without Portfolio.  A concierge assistant escorted us to our 5th-floor accommodations.  Opening the door to our three-room suite fully justified the long flight.  With all possible amenities on display including a room hot tub and an ocean view of Puerto Vallarta Bay.  With no sleep the night before, we crashed fully clothed, buried in an avalanche of orthopedic pillows.
From beneath our 5th-floor balcony and without the benefit of a wakeup call, Diane and I awoke to the sound of smooth jazz emanating from the resort's Oceana Restaurant's Mother's Day Brunch event.  What started out as a break in our circadian rhythm proved to be a portent of exploration and entertainment where every meal, snack, beverage and amenity was included in our daily rate (all-inclusive).  Casual dress and no tipping.
Secrets Resort has six restaurants for guests, each with a different cuisine and ambiance.  At 10:00am on our first day Diane and I chose the Market Buffet that offered a multiplicity of international haute cuisine.  Every restaurant on the property was managed by an impeccably-dressed maître'd who orchestrated his crew of servers, dressed in their muted-gold vests and black pants.  Every dining essential was met with an anticipatory prowess only seasoned servers could exhibit leaving nothing wanting by the resort guest.  Even the casual open-air beach and pool burger bar offered crisp service.