Hyperbaric Medical Center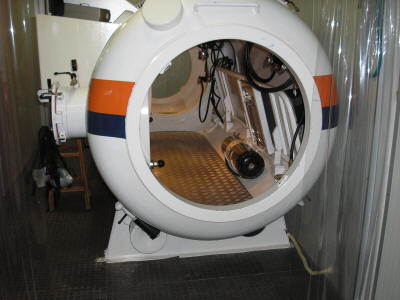 Puerto Ayora, Island of Santa Cruz
Ecuador, South America
OUR HISTORY
The Hyperbaric Facility in Ecuador's Galapagos archipelago is operated by Proteccion Subacuatica del Ecuador, SA (Protesub), and is located in the town of Puerto Ayora on the island of Santa Cruz. Puerto Ayora is the largest town in the Galapagos (pop. 15,000), and is a central 'crossroads' to all of the islands, making it the logical center for diving and medical emergencies.
Protesub opened its doors to the diving community of Galapagos in July, 2001. It started its operations with nominal dive operator support, and now it is gaining more acceptance through awareness and education. To date, the Unit has treated over 40 recreational dive injuries requiring recompression, which could have resulted in death or permanent paralysis if the chamber did not exist. These include tourists, dive masters of the various dive operators. In addition, no less than 100 indigent local artisan diving-fishermen have used the hyperbaric chamber, receiving treatment on a mere cost recovery, or often on a pro bono basis. This charitable activity is performed as a public service to the community that hosts SSS/ Galapagos.
With the cooperation of the dive operators and the efforts of worldwide SSS Recompression Network, Protesub S.A. has been improving its standard of service to the dive community of Galapagos. It is more than a medical center specialized in Sub aquatic and Hyperbaric Medicine.